OK! After some trial and error and a few trips to Joanns, I have
finally
finished my second sewing project on my machine! (my first project was a cube for my daughter which turned out pretty well!) Right now I am working on something for my Aunts birthday. Her birthday is February 13, so I've been trying to figure out some
simple
and
easy
things to make her since I am a beginner.
I finally made a
keychain wristlet
(this one I am keeping and you will see why). First I would like to share what I have learned so far. I still can't believe what a huge learning process sewing is! Since first starting the keychain wristlet, I have learned:
-more about my machine!
-how to sew a straight line
-I can
adjust the pressure of the
presser foot
to help easily maneuver fabrics
-don't sew with dull needles!
-to make sure I read tutorials 2-3 times before I start
-to
cut fabric with precision
(this is key when sewing! It will make your creations come out more professional looking if you really take your time)
-to finally wind the bobbin (when I first received my machine, there was a preloaded bobbin all ready to go for me so I just kept with it)
-I am getting more familiar with how to thread the machine without the manual :)
-that my bobbin tension may be too tight
-that I got WAY too excited when I finally completed this project. (I literally ran around my home and jumped with joy that I made something I can use! Its very exciting)
So finally, here is my keychain wristlet that I made with this
tutorial
. NOTE - She recommends using a heavy fabric such as cotton canvas which I didn't do because I don't have that but mine turned out just fine! I just used one of my more firmer fabrics. That is the next thing I need to learn,
fabrics
!!!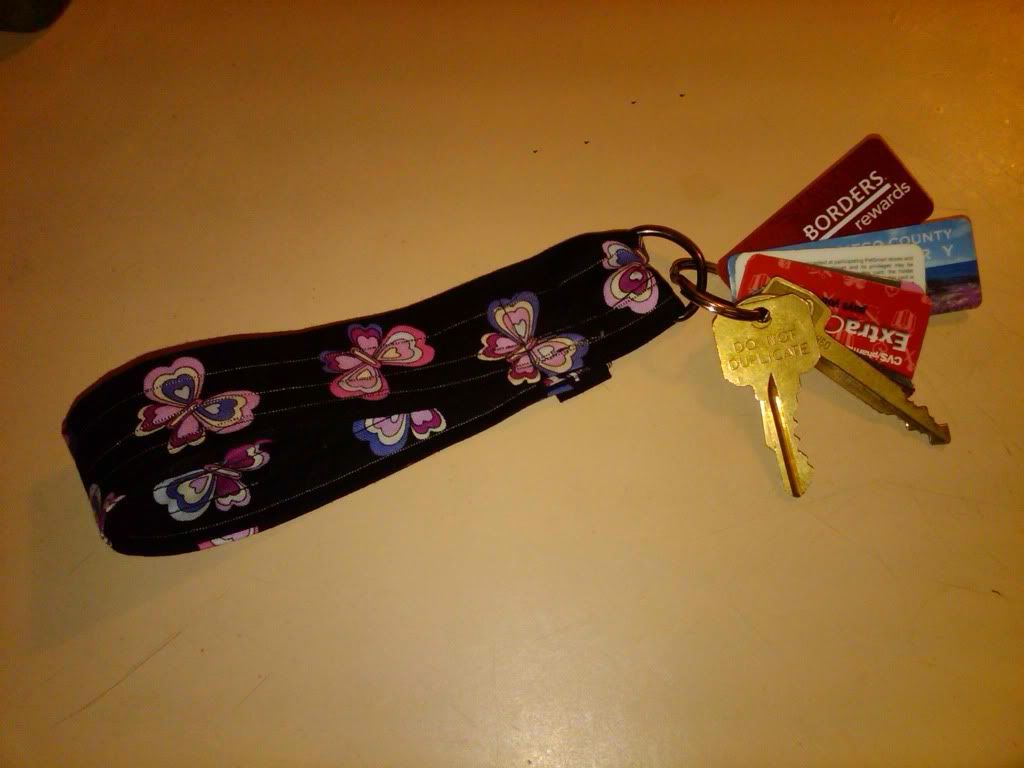 So obviously you can see my stitches and they're very crazy but I will work on that for the next one. What matters most is that I can use it!
COMING UP: I'm going to try my hand at a checkbook cover, Valentines Day photo shoot with my baby, a talk about the stars, & my birthday!
Enjoy your weekend! :-D